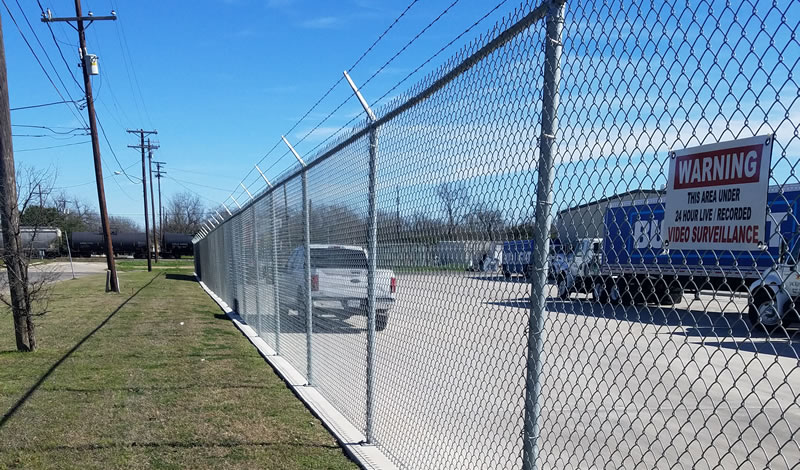 Chain Link Fencing and Fence Installations
Chain link fencing is one of the most popular types of fencing that we install for our customers.  Chain link fencing is affordable, it's in ready supply in various sizes, and with a proper installation it provides excellent security for your property with a very long service life.  What do you need a new chainlink fence for?
Are you trying to improve security on your property?
Do you want to keep pets or children inside of your property?
Do you have an existing chainlink fence that has been damaged or needs replacement?
Since 1957, Cen-Tex Fence has been a trusted, locally owned, and operated, fence building company in Texas.  For a consultation or estimate regarding your specific chain link fencing project, please give us a call at (254) 778-7019 or fill out our contact form so we can schedule a convenient time to meet with you and provide you with some possible solutions to your fencing problem.
We Install Chainlink Fencing For Many Different Purposes Including:
Residential (private homes)
Dog runs or kennels
Sports fields and facilities
Equipment yards or muster areas
Storage facilities
Boat, RV, and vehicle storage areas
Construction sites
Industrial sites
Chainlink Fencing Options Available:
There are a few options we can offer when installing a new chainlink fence.
Varying heights from 4′ to 10′.  Taller is available for special circumstances.
Chainlink fences come in varying strengths depending on your requirements.
Plastic privacy inserts in several colors are available.
Barbed wire or razor wire can be installed on top.
In stock or custom made gates are available.
Choose Cen-Tex For Your Chainlink Fencing Needs
Cen-Tex Fence has been installing quality chainlink fences in the Temple and Belton Texas areas since 1957.  We've installed thousands and thousands of miles of chainlink fence in that time and we've built up a rock-solid reputation in the community for the quality of our work and the great service we've provided our clients for decades.
If you want to schedule your consultation for a chainlink fence installation please give us a call (254) 778-7019 or fill out our online form and we can get right back to you.