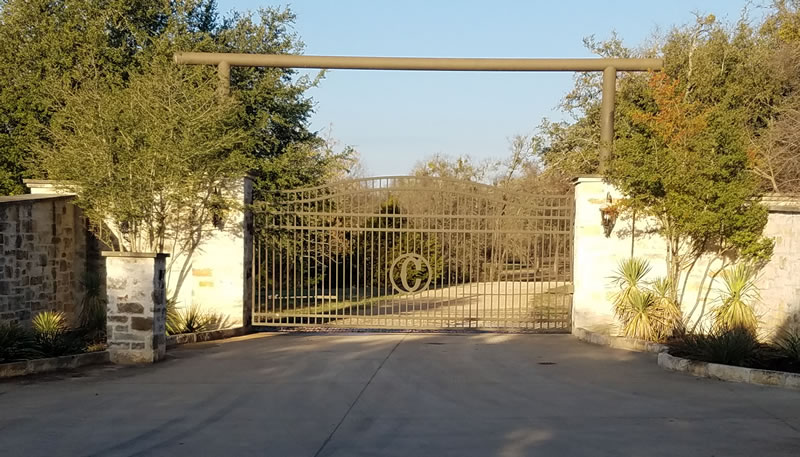 Automatic Gate Installations
Automatic gates are the best way to prevent trespassers and unauthorized vehicles from coming down your driveway or entering your facility.  Whether you need an automatic gate for your private driveway, a storage yard, an RV park, or commercial property we'll have an automatic gate solution that will meet your needs.
Why Install An Automatic Gate?
Protect your property.
No need to get out of your vehicle.
Various modes of access (wireless or keypad).
Can be programmed for all authorized users.
Trouble free service for many years.
Since 1957, Cen-Tex Fence has been a trusted, locally owned, and operated, fence and gate installation company in Texas.  The same gate solution won't work for every property as some properties are much busier than others or they require the gate for different purposes.  Do you need a gate for private driveway?  a farm or ranch? a commercial property?  The most important part is that we're able to build and install an automatic gate that is convenient for you and your needs.
For that reason, a quick phone call or email to our office and we can steer you in the right direction.  For a consultation or estimate regarding your specific automatic gate project, please give us a call at (254) 778-7019 or fill out our contact form so we can schedule a convenient time to meet with you and provide you with some possible solutions to your fencing problem.
Our Automatic Gates Consist Of:
Slide or swing gate.  Stock or custom designs.
A mechanical gate operator to open and close the gate.
High quality hardware for attaching the gate and accessories.
Access control via remote control, telephone, keypad, lock and key, and wireless.
Automatic Gate Material Options
There are a variety of gate options we offer from stock choices that we can deliver in large production runs to unique and custom gates that make an architecural statement.
Custom steel gates
Wrought iron gates
Can We Install Manually Operated Gates?
Yes, we certainly can!  If you don't need the convenience of an automated gate then we can build and install a custom gate that is manually operated.  The manual gates we fabricate and install are great for areas that aren't high traffic but you still want to have a gate that looks good.
Choose Cen-Tex For Your Automatic Gate Needs
Cen-Tex Fence has been installing gate systems in the Temple and Belton Texas areas since 1957.  We've installed thousands of gate systems in that time and we've built up a rock-solid reputation in the community for the quality of our work and the great service we've provided our clients for decades.
If you want to schedule your consultation for an automatic gate installation please give us a call (254) 778-7019 or fill out our online form and we can get right back to you.