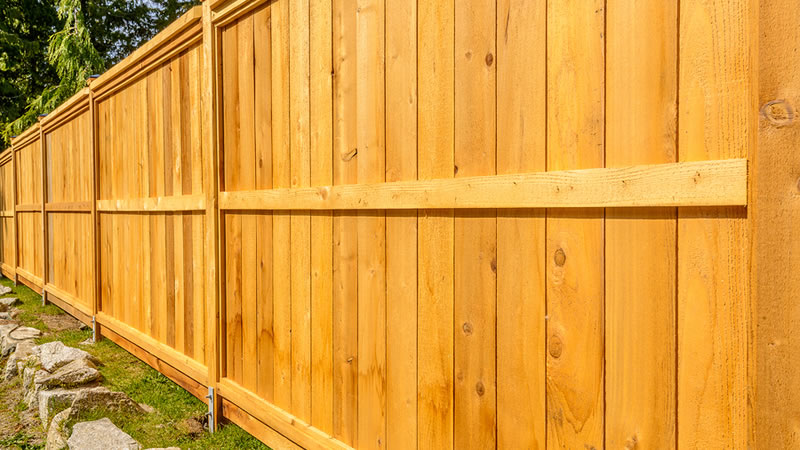 Wood Fencing
The Good:  Wood fencing is a classic choice as we've been using wood for fencing for centuries.  Wood can be very attractive and is often the least expensive option when compared to other fencing products.  Wood is easy to work with and offers versatility for a variety of fencing situations.  Wood is a great choice for a privacy fence or a fence along your property line.  If you like the rustic look or you want a clean painted look a wood fence has many options.
The Bad: Even when properly built and with quality materials a wood fence still requires a lot of maintenance.  A wood fence will need to be painted or stained at least once every few years if you want it to remain looking great.  Eventually the weather can take its toll on a wood fence and you'll see the fence rails might begin to warp or sag and the paint or stain might begin to flake and peel.  Termites and other pests can cause problems with a wood fence if they aren't taken care of quickly.
Vinyl Fencing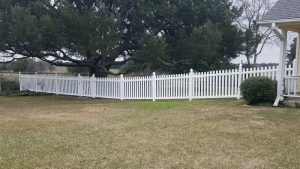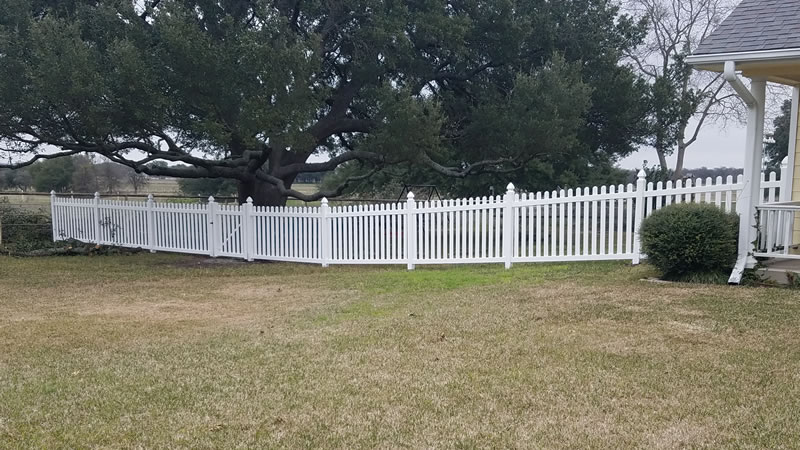 The Good: Vinyl fencing is a great alternative to a wood fence and is sold in a variety of styles and heights.  Vinyl is durable and resists the weather, resists insects, and can withstand UV without warping, rotting, or flaking and peeling paint.  Vinyl fencing systems usually have their own fastening systems and can be quickly installed with minimal hassle.
The Bad: Vinyl fencing can have a higher upfront cost than a wood fence or chain link fence but the lack of maintenance required can offset the additional costs.  Vinyl fencing isn't the best solution if you're looking to improve security.  While they can provide some privacy and work great to keep kids and pets in your yard they should bot be used in a commercial or industrial setting.
Steel Fencing
The Good: If you're looking for durability and strength, it doesn't get much better than steel. Durable and long-lasting you can depend on a steel fence to provide decades of service.  Steel fencing can work for a variety of residential, commercial, or industrial fencing applications.
The Bad: Steel fencing is generally more expensive when it comes to fencing materials and it's not quite as versatile as some other options.  Steel fencing can be heavy and difficult to install without the help and the proper knowledge and tools.
Ornamental Or Wrought Iron Fencing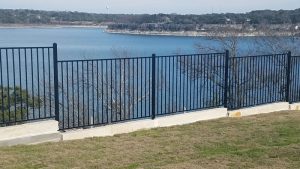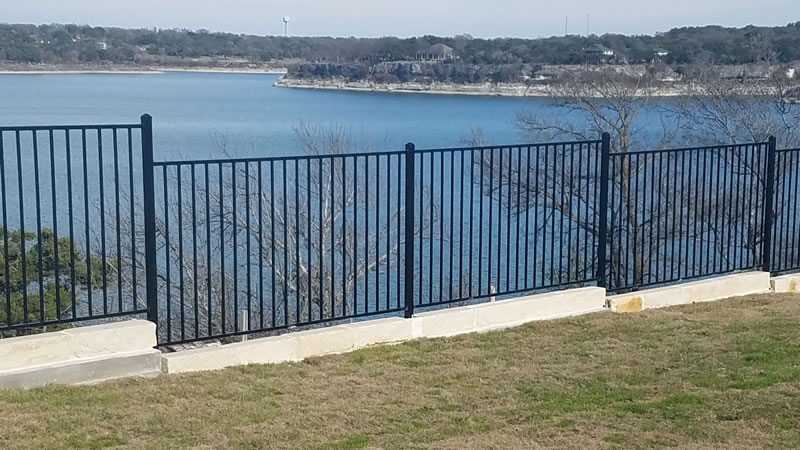 The Good: Wrought iron or ornamental iron as it's also called is the material to choose if you want the best security but also something that looks amazing and enhances your curb appeal or makes an architectural statement.  Your wrought iron fence or gate will develop a beautiful petina from being out in the elements and with our weather will last for decades without issue.  There are many different style and finishing options for an ornamental iron fence.
The Bad: Wrought iron is very heavy and you must generally have it installed by a professional.  It's not really a DIY weekend project.  Of all of the fencing options wrought iron is the most expensive to produce both in materials and labor for the actual installation.
Chain Link Fencing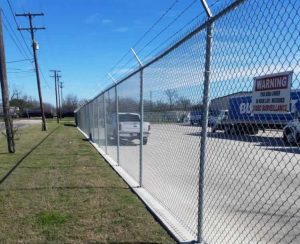 The Good:  If you need better security without breaking the bank then chain link fencing is probably one of the best options.  It is relatively inexpensive although the price can go up depending on how tall your fence is and how heavy of material is being used.  Chain link is very durable and because the metal is galvanized it is virtually maintenance free.  We still recommend you inspect the integrity of your entire length of fence frequently in case of damage or issues that need repair.  If a chain link fence is damaged or cut it can easily be repaired.  Chain link fencing is a great choice for dog runs or kennels, security fencing, fencing for storage yards or equipment yards.
The Bad: If you are after something with aesthetic appeal then a chain link fence won't deliver much in the "looks department".  This is a no frills very basic fence designed to do one thing and that is too keep things in or out.  They can be easily climbed by people unless you have barbed wire or razor wire on top of the fence.  They do not provide much privacy but you can have privacy slats installed for a semi-private fence.
Fencing seems like it might be a very simple service and it is for the most part but there are many different reasons our customers might need a fence and we don't offer a one size fit's all solution.  Hopefully you've learned a little about some of the fencing materials available.  If you have any questions we're happy to help!
Cen-Tex Fence Installs New Fences & Gates In Temple Texas
Cen-Tex Fence is a local fencing and gate company based out of Temple, Texas.  Started in 1957, Cen-Tex has been providing our customers with only the best in fencing solutions for over 60 years!  We have the knowledge and experience to complete all types of fencing projects.
If you're looking to have a new fence or gate installed on your property please give us a call (254) 778-7019 or fill out our online form and we'll get right back to you.